Sunday, June 30, 2013
Publié par

Paul NYC
No comments:

Saturday, June 29, 2013
Publié par

Paul NYC
No comments:

Wednesday, June 26, 2013
Will the Supreme Court
Recognize Edith Windsor?
The Court Strikes Down DOMA
Edith Windsor's victory at the Supreme Court today
is the culmination of the life she shared with her late wife, Thea Spyer.
June 26, 2013


Edith Windsor and the End of DOMA


Posted by The New Yorker
On Wednesday, the Supreme Court struck down the Defense of Marriage Act on broad equal-protection grounds. This decision, which might very well reframe the way an entire country thinks about the institution, comes thanks in large part to one woman: Edith Windsor, who, at 83, was the plaintiff in the case that challenged the law.
Below, a slide show featuring important moments in Windsor's life—not just those before the nation's highest court but also scenes from the forty-two-year-long love story she shared with her wife, Thea Spyer, who died in 2009.
(Amy Davidson and Richard Socarides both have written about Windsor's life and court battle.)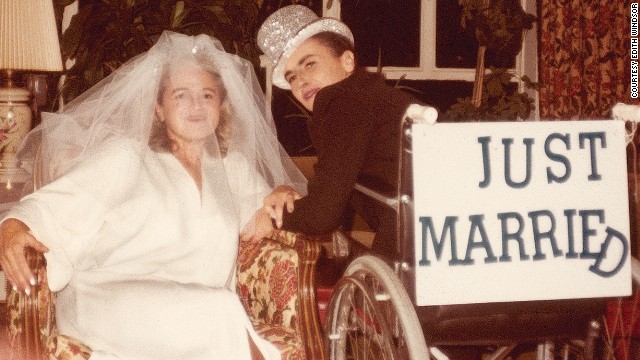 http://www.policymic.com/articles/22682/doma-and-prop-8-supreme-court-live-will-the-supeme-court-make-history
Same-sex marriage (also known as gay marriage) is marriage between two persons of the same biological sex and/or gender identity. Legal recognition of same-sex marriage or the possibility to perform a same-sex marriage is sometimes referred to as marriage equality or equal marriage, particularly by supporters.

The first laws in modern times enabling same-sex marriage were enacted during the first decade of the 21st century.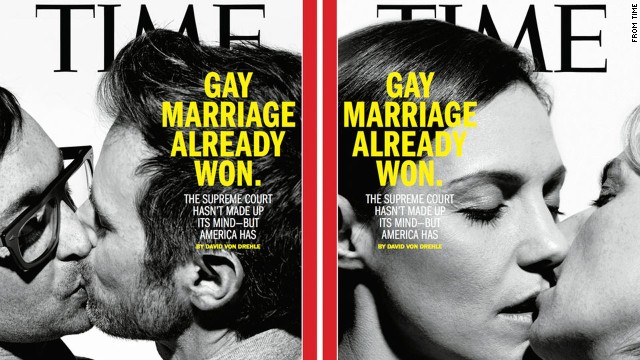 As of May 2013, thirteen countries (Argentina, Belgium, Brazil, Canada, Denmark, France, Iceland, Netherlands, Norway, Portugal, Spain, South Africa, Sweden), and several sub-national jurisdictions (parts of Mexico and the United States), allow same-sex couples to marry. Uruguay and New Zealand have both enacted laws to legalize same-sex marriage which will come into force in August 2013.
Bills allowing legal recognition of same-sex marriage have been proposed, are pending, or have passed at least one legislative house in Andorra, England and Wales, Finland, Germany, Ireland, Luxembourg, Nepal, Scotland, and Taiwan, as well as in parts of Australia, Mexico, and the United States.
Introduction of same-sex marriage laws has varied by jurisdiction, being variously accomplished through a legislative change to marriage laws, a court ruling based on constitutional guarantees of equality, or by direct popular vote (via a ballot initiative or a referendum). The recognition of same-sex marriage is a political, social, human rights and civil rights issue, as well as a religious issue in many nations and around the world, and debates continue to arise over whether same-sex couples should be allowed marriage, be required to hold a different status (a civil union), or be denied recognition of such rights. Allowing same-gender couples to legally marry is considered to be one of the most important of all LGBT rights.
Same-sex marriages can be performed in a secular civil ceremony or in a religious setting. Various faith communities around the world support allowing same-sex couples to marry or conduct same-sex marriage ceremonies; for example: Quakers, U.S. Episcopalians, the Metropolitan Community Church, the United Church of Christ, the United Church of Canada, Buddhism in Australia, Reform and Conservative Jews, Wiccans, Druids, Unitarian Universalists, and Native American religions with a two-spirit tradition, as well as various progressive and modern Christian, Muslim, Hindu, Buddhist, and Jewish groups and various minor religions and other denominations.
Studies conducted in several countries[which?] indicate that support for the legal recognition of same-sex marriage increases with higher levels of education and that support is strong among younger people. Additionally, polls in various countries[which?] show that there is rising support for legally recognizing same-sex marriage across race, ethnicity, age, religion, political affiliation, and socioeconomic status.
~~~*~~~
Marriage open to same-sex couples
Recognized or performed in limited circumstances
High court has ruled in favor, but not yet implemented
Government has announced intention to legalize
Same-se
x marriage not legally recognized
Legal recognition of
same-sex relationships
Marriage







Performed in some jurisdictions
Mexico: DF, QR United States: CA†, CT, DC, DE†, IA, MA, MD, ME, MN†, NH, NY, RI†, VT, WA, 5 tribal jurisdictions
2001

Netherlands (1 April)
2003 Belgium (1 June), Ontario (10 June), British Columbia (8 July)
2004

Quebec (19 March), Massachusetts (17 May), Yukon (14 July), Manitoba (16 September), Nova Scotia (24 September), Saskatchewan (5 November), Newfoundland (21 December)


2005 New Brunswick (23 June), Spain (3 July), Canada (20 July)
2006

South Africa (30 November)


2008 California (16 June; discontinued 5 November), Connecticut (12 November)
2009

Norway (1 January), Iowa (27 April), Sweden (1 May), Coquille Indian Tribe [Oregon] (May), Vermont (1 September)


2010 New Hampshire (1 January), District of Columbia (3 March), Mexico City (4 March), Portugal (5 June), Iceland (27 June), Argentina (22 July)
2011 New York (24 July), Suquamish Tribe [Washington] (1 August)
2012

Alagoas (6 January), Quintana Roo (May), Denmark (15 June), Sergipe (15 July), Espírito Santo (15 August), Caribbean Netherlands (10 October), Bahia (26 November), Brasilia (1 December), Washington (6 December), Piauí (15 December), Maine (29 December)
2013

Maryland (1 January), São Paulo (16 February), Ceará & Little Traverse Bay Bands of Odawa Indians [Michigan] (15 March), Paraná (26 March), Pokagon Band of Potawatomi Indians [Michigan] (March), Mato Grosso do Sul (2 April), Rondônia (26 April), Santa Catarina & Paraíba (29 April), Brazil [national] (14 May), France (18 May), Santa Ysabel Tribe [California] (24 June), Delaware (1 July), Uruguay, Minnesota & Rhode Island (1 August), New Zealand (19 August)
In progress England and Wales, Luxembourg, Nepal, Scotland
Publié par

Paul NYC
No comments: